Steramine Sanitizer Tablets – Single Bottle with Test Strips
$11.50
Public Health Regulations require that all food contact surfaces in food service be properly sanitized to protect the public from transmission of disease through cross-contamination. Use the EPA approved and registered Steramine Sanitizer Tablets to sanitize food contact surfaces in restaurants and homes to effectively kill infectious bacteria and micro-organisms. A sanitizing solution prepared with Steramine sanitabs can be used as a third sink sanitizer, used for wiping, or used in a spray application to sanitize all non-porous surfaces.
Each bottle contains 150 Tablets and makes 150 gallons.
Order includes 15 x QT-10 test strips

OR BUY DIRECT ON OUR WEBSITE:
Steramine 1-G Sanitizer tablets give other sanitizers a run for their money! It offers every advantage of regular sanitizers but features outstanding additional benefits making it the sanitizer of choice in the food service industry.
ANTI-MICROBIAL SANITIZER
Tested and evaluated under strict EPA testing protocols, Steramine 1-G is the first sanitizing product to be developed that has been accepted and registered by the EPA as being effective in killing not only infectious bacteria but also HIV-1 (AIDS Virus) Kills micro-organisms like CA-MRSA, E-Coli, Listeria monocytogenes and Staphylococcus aureus.
Steramine 1-G Sanitizer Tablets meet all public health and regulatory criteria for safety and effectiveness by the U.S Environmental Protection Agency, U.S Public Health Service, and the U.S Food and Drug Administration.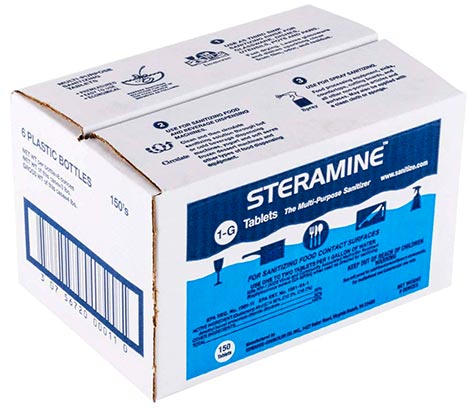 EASY TO USE
Each Steramine tablet is pre-measured. Staff won't hassle with measuring out liquid sanitizers anymore. Dissolve on tablet in one gallon of water to produce a sanitizing solution of 200 parts per million of concentration to meet health department regulations. It's that simple! 1 bottle of Steramine holds 150 tablets, making it compact and easy to store compared to bulky liquid sanitizers.
COST-EFFECTIVE
Steramine sanitabs are highly concentrated. Tablets are 50% active, compared to liquids which are 2% – 12% active. This means shipping costs are less per gallon! With Steramine, you're not paying to ship water! End the guesswork in measuring and prevent loss from breakage, spillage, or waste. Sanitizing solutions are long-lasting and usually remain effective all day, so it's used up less quickly.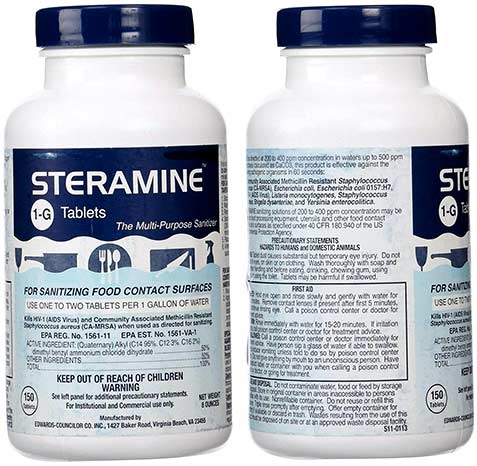 GENTLE AND NON-TOXIC
Unlike Steramine, most sanitizers are listed by the EPA as category 1 hazards. This means they carry the risk of illness, permanent injury or even death if used incorrectly. Compared to iodine compounds, chlorine compounds and liquid quarts, Steramine is safer and gentle on hands and skin. No protective gear is needed when working with this sanitizer!
MULTI-PURPOSE
Steramine can be used in a soaking method to sanitize cutlery, crockery and other small items in a third sink compartment. It can also be used for general wiping of surfaces and equipment, or in a spray application. Spray on large non-porous surfaces such as countertops, sinks, refrigerators, cabinets and even scuba equipment.

Clean and then circulate sanitizing solution through food dispensing equipment such as hot or cold beverage dispensing machines and yogurt and soft serve frozen dessert machines.
TASTE AND RESIDUE FREE
The Steramine sanitizing solution leaves glassware and cutlery sparkling clean, germ-free and leaves behind no unsightly film, no residue and requires no rinsing. The solution does not affect the taste of food as it leaves behind no noxious smell and no taste!
VISIBLE. TURNS WATER BLUE!
When Steramine tablets dissolve in water it produces a distinct, clear, pale blue color sanitizing solution. This easily tells operators and inspectors at a glance that the sanitizer is already in the final rinse sink.